While I'm busy having too much fun in Cancun I asked some of my favorite blogger to entertain you.
Allie
is here today to take you on a 24 hour tour of my very favorite city.
--
Hi lovely Lemons, Avocados, and the Bay readers! I'm Allie and I blog over at
Beauty and the Feast
! Come on over and say hello... it'll make my day. I'm thrilled that Tammy asked me to be here with you all while she's having the time of her life in Mexico! Tammy and I met through the blogosphere but since we're both in San Diego, we've met several times and... well... the rest is history. She's basically my blog guru. Anyways! Today I'm going to share with you some of my favorite things to do in San Diego. So without further adieu... if you're ever in San Diego and have at least 24 hours...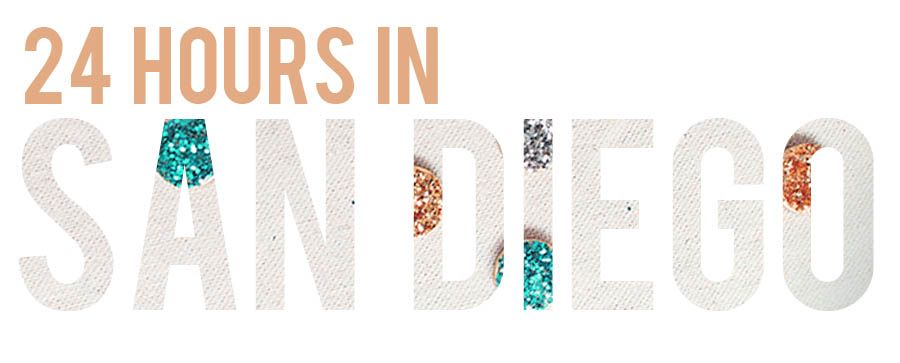 8:00 a.m. Cowles Mountain:
Begin your day with a vigorous hike up Cowles Mountain. Bring plenty of water and your A-game; it isn't easy but the view from the top is amazing.
9:00 a.m. Coffee at Roast Coach Coffee Bar:
On your way back, stop in South Park for coffee at Roast Coach Coffee Bar. This darling cart owned by two of the nicest women I've ever met is sure to have a smiling face to make your morning. Order the Southern Hospitality, which is an iced coffee with muddled mint, brown sugar and a bit of cream.
10:00 a.m. Breakfast at The Cottage:
You'll be starving by now so get in the car and drive a bit north to La Jolla and have a feastly breakfast at The Cottage. From chilequiles to oatmeal pancakes, I promise you're going to be a happy camper.
11:00 a.m. Walk around La Jolla: While you're in La Jolla, you can't miss the shopping and views. There's a beautiful park, lots of cliffs and even seals to see!
12:30 p.m. Lunch at Mitch's Seafood: This dive in Point Loma offers some of the best and freshest seafood in the area... plus it's affordable. Plus it's right on the water.
4:00 p.m. Nap at Balboa Park: Just kidding, you don't have to nap. But by this time, you might need a little snooze. Balboa Park is filled with museums, art, music and exhibits. However if you just want to relax, it's also an opportune place to take in the scenery and catch some z's.
7:00 p.m. Dinner at MIHO Gastrotruck
: Hopefully you're in San Diego on a Friday night and you can catch MIHO in South Park. This all-American food truck is definitely some of the best food you'll find in the area.
9:00 p.m. Post-Dinner Bars: Since obviously I'm a professional on the San Diego bar scene, I have a slew of suggestions for you.
For the dive bar lover:
Check out
Live Wire
or
Bar Pink
... which also happens to have a fabulous dance floor.
Finally, if you're ever in San Diego, don't forget to let me know so I can join you on this venture! Thanks for having me, Tammy!